Summary
Current Position: Governor since 2019
Affiliation: Republican
Former Positions: Lt. Governor from 2009 – 2019; State Senator from 2001 – 2009
Quotes: 
Brad Little is committed to making decisions through one lens: the lens of ensuring Idaho's children and grandchildren have the best opportunities to stay in Idaho and for the ones who have left to return.
Brad has advocated his whole life for limited government. He works to ensure the lightest possible hand of government in the lives of Idaho's citizens, and he seeks to build the public's confidence in State government.
Featured Video:
A candid conversation with Idaho Gov. Brad Little
Source: Government page
News
An extraordinary public feud between Idaho's two top leaders escalated on Tuesday when the state's governor, Brad Little, accused fellow Republican Lt. Gov. Janice McGeachin of overstepping her authority by ordering the state National Guard to the US-Mexico border while he was in Texas visiting the border.
McGeachin, who is running for governor next year, also drew Little's ire on Tuesday when she attempted to broaden his executive order banning so-called vaccine passports.
Republican Lt. Gov. Janice McGeachin addresses a rally on the Statehouse steps in Boise, Idaho on September 15.
"Before I even left the state, the Lt. Governor unabashedly requested information from the Adjutant General to deploy our National Guard to the border, the same place I am visiting today to work with my fellow Republican governors on solutions to the crisis," Little said in a statement posted on Twitter. He traveled to Texas to meet with nine other governors to discuss border security and take a boat tour of the Rio Grande River.
Idaho's Constitution says that in the event that the governor leaves the state, the lieutenant governor takes control of "the powers, duties and emoluments" of the governorship until the governor returns.
CNN has contacted the Idaho National Guard and McGeachin's office for comment but did not immediately hear back. It was not clear if any agency acted on or followed McGeachin's initiatives.
Also on Tuesday, McGeachin tweeted that she "fixed" Little's executive order banning vaccine passports to include banning schools, colleges, and universities from requiring proof of Covid-19 vaccinations or a negative Covid-19 test.
"I will continue to fight for your individual Liberty!," the lieutenant governor said.
Eight minutes later, Little tweeted, "I will be rescinding and reversing any actions taken by the Lt. Governor when I return."
BOISE, Idaho — Gov. Brad Little issued a statement Friday morning about President Joe Biden's six-pronged plan regarding COVID-19. In a speech Thursday, Biden zeroed in on the unvaccinated, saying COVID-19 is currently responsible for a "pandemic of the unvaccinated."
In a tweet, Little said he is working closely with his legal counsel and Attorney General Lawrence Wasden on options to "protect the rights of business owners and their employees."
The State of Idaho is exploring legal action to stop President Biden's unprecedented government overreach into the private sector with his new COVID-19 plan. I am working closely with my legal counsel and Attorney General Lawrence Wasden on legal options to protect the rights of business owners and their employees.
I have been consistent that government should stay out of decisions involving employers and their employees as much as possible. I've advocated for and championed fewer government regulations and mandates on business.
I am also deeply concerned with the president's tone in his message to the American people with his new plan. It is wrong for President Biden to dismiss the concerns of millions of Americans and tell governors who represent Americans that he will use his powers as president to get them out of the way. This is not leadership. When President Biden took office, he promised to do his best to unify our country, and he has only driven us further apart. President Biden is out of touch, and his mandates only add to the divisiveness within our country.
I still urge Idahoans to choose to receive the safe and effective COVID-19 vaccine and other ways to protect themselves and others from COVID-19 so our kids can stay in school and for the continued health and prosperity of the people of Idaho.
Twitter
About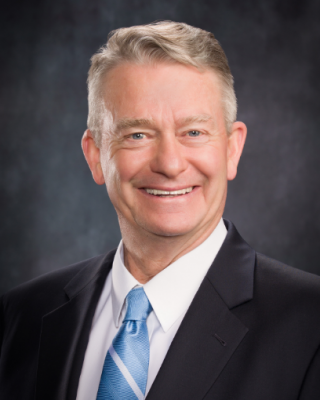 Source: Government page
The people of Idaho elected Brad Little as the state's 33rd Governor in November 2018. He became Governor on January 7, 2019.
Brad is an Emmett native who was raised on his family's sheep and cattle ranching operation. He graduated from the University of Idaho in 1977 with a Bachelor of Science in Agribusiness, and has worked in the ranching industry for his entire professional life. In 1978, Brad had good fortune and married Teresa Soulen of Weiser.
Teresa and Brad are the proud parents of two sons who have wonderful wives – Adam and Angela, and David and Kelsey. They have six beautiful grandchildren.
Brad has a heart for public service.  He first served in public office in 2001 when he was selected to fill a Senate vacancy. He was then elected to four consecutive terms to the Idaho Senate. During his service as a Senator, Brad was elected by his Republican peers during his first full term to serve in Party leadership as Majority Caucus Chair. He then served as Idaho's 37th Lt. Governor starting on January 6, 2009.
Contact
Email:
Web
Government Page, Campaign Site, Twitter, Facebook, Wikipedia
Politics
Source: none
Campaign Finance
Voting Record
Google
Wikipedia entry
Bradley Jay Little (born February 15, 1954) is an American politician serving as the 33rd governor of Idaho since January 2019. A member of the Republican Party, he served as the 42nd lieutenant governor of Idaho from 2009 to 2019. From 2001 to 2009, Little served in the Idaho Senate, where he chaired the majority caucus and represented the 8th and 11th legislative districts (change due to redistricting in 2002).[1] He won the 2018 gubernatorial election against Democratic nominee Paulette Jordan.[2]
Early life and education
Little was born and raised in Emmett, Idaho and graduated from Emmett High School in 1972.[3] He attended the University of Idaho in Moscow,[4] was a member of the Idaho Alpha chapter of Phi Delta Theta fraternity,[5][6] and earned a B.S. in agribusiness in 1976.
Career
Little has had an extensive dual career tending to his family's ranching interests (his grandfather was the "Idaho Sheep King")[3] and in public service. During the 1981 and 1985 legislative sessions, Little represented his father, David Little, in the Senate on a temporary appointment due to illness, during which time he served on the Finance and Resources Committees.[7] Little also managed his family's ranching operation, Little Land and Livestock, for almost 30 years until his son, David, became manager in 2009 when Little was appointed lieutenant governor.[8] He continues to work as the head of Little Enterprises, Inc. (a diversified farming and cattle operation), and is a member of the board of directors of Performance Design Inc., a small Boise-based manufacturing company.[8]
Little has also been involved in a variety of private organizations and companies based in Idaho and the Mountain West. He is a former chairman of the Idaho Association of Commerce and Industry (IACI), "The Voice of Business in Idaho", and was a member of its board for 20 years (1981–2001).[9] Little is also the former vice-chairman of the Idaho Community Foundation and the Emmett Public School Foundation, and the former director of the Idaho Wool Growers Association and the University of Idaho Foundation.[8][10][11] He has also served in the past on the boards of directors of High Country News, Home Federal Bank, a small Idaho-based regional bank recently acquired by Bank of the Cascades, and the Idaho Foundation for Excellence in Education.[12][13]
State senator (2001–2009)
Governor Dirk Kempthorne appointed Little to fill a state senate vacancy in May 2001. He represented what was at the time District 8, which covered a part of Gem County surrounding and north of Emmett, all of Boise, Valley, and Adams Counties, and the southern portion of Idaho County.[14][15]
After a change in district boundaries due to redistricting in 2001–02, Little was elected in the fall of 2002 to District 11, which then encompassed all of Gem County and the northern portion of Canyon County, including the communities of Middleton and Parma.[16][17] He was reelected senator from the 11th legislative district four times.[18][19][20] Little was also elected in 2003 by his Republican peers to the party leadership position of Majority Caucus Chair, which he held until 2009.[21]
Committee assignments
Agricultural Affairs 2002
Resources and Environment 2002
State Affairs 2003–2009
Resources & Environment 2003–2009
Transportation 2003–2009
Economic Outlook
Revenue Assessment
State Senator from District 11: 2002 results[22][23]
| Republican Party | Votes | Pct | | Republican Party | Votes | Pct | |
| --- | --- | --- | --- | --- | --- | --- | --- |
| Brad Little | 3,865 | 72.1 | | Mike Pullin | 1,498 | 27.9 | |
| Republican Party | Votes | Pct | | Independent | Votes | Pct | |
| --- | --- | --- | --- | --- | --- | --- | --- |
| Brad Little | 8,478 | 76.2 | | John Steinebach | 2,646 | 23.8 | |
State Senator from District 11: 2004 results[24][25]
| Republican Party | Votes | Pct | | Republican Party | Votes | Pct | | Republican Party | Votes | Pct | |
| --- | --- | --- | --- | --- | --- | --- | --- | --- | --- | --- | --- |
| Brad Little | 3,402 | 65.00 | | Steven Thayn | 1,398 | 26.71 | | Walter Bayes | 434 | 8.29 | |
| Republican Party | Votes | Pct | |
| --- | --- | --- | --- |
| Brad Little | 13,533 | 100.00 | |
State Senate from District 11: 2006 results[26][27]
| Republican Party | Votes | Pct | | Constitution Party | Votes | Pct | |
| --- | --- | --- | --- | --- | --- | --- | --- |
| Brad Little | 10,090 | 77.05 | | Jared Eastley | 3,006 | 22.95 | |
State Senate from District 11: 2008 results[28][29]
| Republican Party | Votes | Pct | | Independent | Votes | Pct | |
| --- | --- | --- | --- | --- | --- | --- | --- |
| Brad Little | 14,870 | 77.5 | | Kirsten Faith Richardson | 4,309 | 22.5 | |
Lieutenant governor of Idaho (2009–2019)
Appointment, election and reelection
In January 2009, Governor Butch Otter appointed Little to the office of lieutenant governor to fill the vacancy left by former Lieutenant Governor Jim Risch's election to the U.S. Senate in 2008. Little was sworn in by Otter on January 6, 2009, and confirmed by unanimous consent when the Idaho Senate convened on January 12.[30][31]
Little was elected lieutenant governor in 2010, defeating two opponents in the primary election and two opponents from the Democratic and Constitution parties in the general election.[32][33] He was reelected in 2014.
Lieutenant Governor of Idaho: 2010 results[34]

| Republican Party | Votes | Pct | | Republican Party | Votes | Pct | | Republican Party | Votes | Pct | |
| --- | --- | --- | --- | --- | --- | --- | --- | --- | --- | --- | --- |
| Brad Little | 95,758 | 67.6 | | Joshua Blessinger | 26,808 | 18.9 | | Steven Dana Pankey | 19,096 | 13.5 | |

| Republican Party | Votes | Pct | | Democratic Party | Votes | Pct | | Constitution Party | Votes | Pct | |
| --- | --- | --- | --- | --- | --- | --- | --- | --- | --- | --- | --- |
| Brad Little | 299,979 | 67.8% | | Eldon Wallace | 120,174 | 27.2% | | Paul Venable | 22,007 | 5.0% | |
Lieutenant Governor of Idaho: 2014 results[35]

| Republican Party | Votes | Pct | | Republican Party | Votes | Pct | |
| --- | --- | --- | --- | --- | --- | --- | --- |
| Brad Little | 96,780 | 66.8 | | Jim Chmelik | 48,099 | 33.2 | |

| Republican Party | Votes | Pct | | Democratic Party | Votes | Pct | | Constitution Party | Votes | Pct | |
| --- | --- | --- | --- | --- | --- | --- | --- | --- | --- | --- | --- |
| Brad Little | 271,268 | 62.8% | | Bert Marley | 141,917 | 32.9% | | David Hartigan | 18,705 | 4.3% | |
Economic development and trade missions
Little focused on economic development as lieutenant governor, helping persuade energy bar producer Clif Bar to build a new food manufacturing plant in Idaho in 2013.[36][37]
Little also took part in and led several trade missions. He led a Friendship Mission to Basque Country in Spain in 2010, during which he met President of the Basque Government Patxi López. During this meeting, Little and López agreed to establish a Basque Economic Development Office in Boise that "would provide resources and services for Idaho and Basque companies to ease collaboration on research, sales and collaborative programs."[38] Little later signed the Euskadi-Idaho Friendship Agreement, which affirms the friendship and cultural affinity between the Basque Country and Idaho, which has the largest Basque community outside Spain.[39]
Little was also a member of a 2011 Idaho trade delegation that traveled to Mexico and Brazil.[40] After the trade mission, he said, "we found tremendous interest and opportunities in both countries for Idaho products and services … This trip strengthened key trade relationships and established new customers for Idaho businesses." The Idaho Department of Commerce estimated that the mission resulted in sales of more than $30 million.[41]
Legislation
In the 2014 legislative session, Little sponsored Senate Bill 1354, an anti-"patent troll" bill. The bill protects companies from abusive or "bad faith assertions of patent infringement" to collect an extortionate licensing fee.[42][43][44]
Governor of Idaho (2019–present)
2018 election
In June 2016, Little announced his candidacy for the Idaho gubernatorial election in 2018.[45][46] He said that Idaho National Laboratory would be a priority if he became governor.[47]
Little was endorsed by incumbent Governor Otter,[48] former governors Dirk Kempthorne and Phil Batt, and U.S. Senator Jim Risch.[49]
During his campaign, Little called for a phased-in $350 million reduction in the state income tax and the elimination of the Idaho grocery tax.[50]
Little won the Idaho Republican Party primary, beating both U.S. Representative Raúl Labrador and businessman Tommy Ahlquist with 37.3% of the vote.[51] In the general election in November, he defeated state Representative Paulette Jordan, the Idaho Democratic Party nominee,[52] by over 130,000 votes.
Tenure
In March 2020, Little gained attention for signing two bills into law that addressed transgender people.[53] The first bans transgender women and girls from competing in women's sports, citing possible unfair physical advantages. The second bill, HB 509, bans transgender people from changing the sex on their birth certificates.[54][55][56]
In 2021, Little signed legislation that raised signature requirements for ballot initiatives.[57] That year, he also signed legislation that would permit harvesting up to 90% of the state's estimated 1,500 wolves to the minimum level of 150 as set by Idaho's wolf conservation and management plan; the legislation was backed by the ranching sector of Idaho as well as many in the hunting and fishing community, but strongly opposed by environmental advocates.[58]
Political positions
Abortion
In late April 2021, Little signed House Bill 366, effectively prohibiting abortions after about six weeks of pregnancy, making exceptions for victims of rape, incest, and for medical emergencies. He also said, "We should never relent in our efforts to protect the lives of the preborn" and "Hundreds and hundreds of babies lose their lives every year in Idaho due to abortion, an absolute tragedy."[59][60]
In March 2022, Little signed Senate Bill 1309 modeled after the Texas Heartbeat Act that prohibited abortions after about six weeks of pregnancy. The bill made exceptions for victims of rape, incest, and for medical emergencies.[61] The Idaho Supreme Court later temporarily blocked the law.[62]
Gun control
Little opposes gun control. In May 2021, he signed a bill that would thwart nearly a half-dozen of executive orders from President Joe Biden combating gun control.[63]
LGBT rights
Little opposes LGBT rights. In 2006, he voted to propose 2006 Idaho Amendment 2, which banned same-sex marriages or civil unions being performed in the state of Idaho. During his campaign for governor, Little said, "marriage is the union between a man and a woman".[64] In March 2020, he signed both House Bill 500 and House Bill 509, which ban transgender people who identify as female from playing on athletic teams that don't align with their sex-at-birth and ban transgender people from changing their gender mark on their birth certificate.[65]
Marijuana
In a January 2019 interview, Little expressed opposition to legalizing recreational marijuana. He had expressed skepticism about legalizing medical marijuana for patients.[66]
When being asked about marijuana legalization in April 2019, Little said: "If Idahoans want legal marijuana, they elected the wrong guy as governor." NORML, a group advocating the legalization of marijuana, gave Little an F rating for his policies about reforming marijuana laws.[67][68]
In February 2021, Little signed Senate Bill 1017, which raises the legal THC limit in cannabidiol (CBD) products from 0% to 0.1% THC. The law went into effect on July 1, 2021.[69]
In April 2021, Little signed a bill that would legalize the cultivation and transportation of hemp in Idaho with up to 0.3% THC in it, making Idaho the final state to do so, but the bill would prohibit the sale of hemp products containing any THC.[70]
Electoral history
Personal life
Little married Teresa Soulen of Weiser in May 1978, and they have two sons and five grandchildren.[8]
References
External links
Finances
LITTLE, BRAD has run in 7 races for public office, winning 7 of them. The candidate has raised a total of $4,547,861.
Source: Follow the Money
Voting Record
See: Vote Smart
Issues
Source: Campaign page
Keeping Our Children in Idaho:
As a 3rd generation Idahoan, and proud parent of two sons and grandparents of five grandchildren, Teresa and I want nothing more than keeping our family close. My vision for Idaho is that we keep our children right here in Idaho by creating great jobs and providing the best place to raise a family. It's the people of Idaho that make our state the best in country, and keeping generations of Idaho families together is the foundation in continuing our successes and maintaining Idaho family values.
Better Jobs, Stronger Economy:
The Idaho economy is running at an incredible rate, with low unemployment and wage growth continuing to climb. We have incredible opportunities ahead us. Our diverse and dynamic economy demands a highly trained workforce and a responsive education system.
Low-cost Healthcare:
Obamacare regulations have made Idahoans' healthcare costs soar beyond all reason. Idahoans need more control over our healthcare along with fewer federal mandates, and I will pledge to every Idahoan that I will fight to control and lower healthcare costs in Idaho.
Taxes:
Taxes need to be fair, simple, competitive and predictable. As Governor, I will look for ways to lower the tax burden on Idahoans so that economic prosperity can continue in every community across Idaho. We need the lightest possible hand of government in the day to day lives of our citizens and businesses.
2nd Amendment:
As a lifetime member of the NRA, I am a strong defender of the 2nd Amendment. The 2nd Amendment in Idaho is a sacred trust guaranteed by our Constitution— a fundamental and irrevocable right. Not only are guns vital to our way of life, they are important to our economy.
Education:
I oppose the federalization of our education system.  I support local and parental control of our public schools. Parents and teachers play an integral role in ensuring our children are getting the most out of the classroom.
Marriage
I believe that marriage is the union between a man and woman.