Summary
News
Twitter
About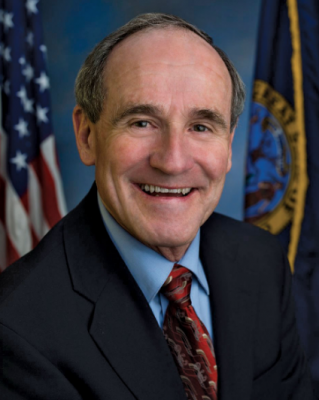 Source: Government page
Risch brings his pragmatic, results-focused approach to governance to the Senate Foreign Relations Committee, where he serves as ranking member for the 117th Congress. As the lead Republican on the committee, Risch is focused on protecting the security and interests of the American people, in addition to continuing to advance U.S. prosperity and leadership in the world. He is confronting many issues that hit home across Idaho, like advancing the interests of Idaho citizens and businesses in international trade and investment, promoting Idaho exports, guarding Idaho interests in the Columbia River Treaty talks, supporting human rights and confronting the problem of sex trafficking.
During the 115th Congress, Risch served as chairman of the Senate Committee on Small Business and Entrepreneurship where he successfully passed several initiatives to improve cybersecurity resources for small businesses, cut red tape and reduce regulations, and improve small business access to capital. He remains commited to working for Idaho's small businesses as a senior member of the committee during the 117th Congress.
Risch also represents Idaho's interests on the Energy and Natural Resources Committee, giving Idaho a voice in legislation that dramatically shapes the West, and he serves on the Select Committee on Intelligence and the Select Committee on Ethics.
During his service as Idaho's 31st governor, Risch lowered property taxes by 20 percent providing much-needed tax relief to Idaho taxpayers, while setting aside $100 million in a rainy day fund for schools. He also designed a plan to manage Idaho's roadless areas and supervised the adoption of a rule that effectively prohibits the construction of traditional mercury-releasing pulverized coal power plants. Both measures earned Risch bipartisan acclaim for his pragmatic approach to natural resource issues and land management.
As governor, Risch also accomplished a number of initiatives to create a streamlined and effective government. He transformed Idaho's executive office by opening regional offices throughout the state, enhancing communication and responsiveness to Idahoans. Risch also succeeded in a major reorganization of Idaho's Department of Health and Welfare that allowed for more efficient administration and cost savings.
As a twice-elected lieutenant governor, Risch earned a reputation as an advocate for smart economic development. He continues to work with businesses-new and old alike-to ensure continued prosperity for the people and places of Idaho.
Senator Risch began his career in public service at the age of 27, when he was elected to two terms as Ada County prosecuting attorney. Following his tenure as president of the Idaho Prosecuting Attorneys Association, he served 11 elected terms in the Idaho State Senate. His time as senator was highlighted by his quick election to the leadership positions of majority leader and Senate president pro tempore, serving in the top two positions of Senate leadership for 19 of his 22 years.
Senator Risch earned a Bachelor of Science degree in Forestry from the University of Idaho, and a Juris Doctor degree from the University of Idaho, College of Law. He served on Law Review and the College of Law Advisory Committee at the University of Idaho and has taught criminal law at Boise State University. He was a small business owner, a rancher/farmer and senior partner in the Risch Goss Insinger Gustavel Law firm at the time of his election to the U.S. Senate.
Senator Risch and his wife Vicki have been married for more than 50 years. Their commitment to Idaho and their work together earned them the distinction of being selected as Idaho's Healthy Marriage Ambassadors in 2007. They have three married sons and nine grandchildren. They live on a ranch outside of Boise and maintain an apartment in Washington, D.C.
Committees   
The Senate Energy and Natural Resources Committee was originally known as the Committee on Public Lands, overseeing the settling of land acquired in the Louisiana Purchase. Since then, its oversight jurisdiction has expanded to include nuclear, hydroelectric and other energy production; mining, grazing, and oil and gas leasing on public lands; water rights; National Parks and Indian Affairs.

The Select Committee on Intelligence oversees intelligence activities and programs of the U.S. government. The committee is made up of two members of the Appropriations, Armed Services, Foreign Relations and Judiciary committees and seven members of the general body. Its primary duties are to ensure that intelligence activities are in line with the Constitution and U.S. law, and to assure the appropriate government departments and agencies communicate intelligence information in a complete and timely fashion to the President and Congress.

The Small Business & Entrepreneurship Committee oversees proposed legislation or other matters relating to the Small Business Administration. They are also assigned to research, investigate and report all problems relating to America's small business enterprises to the Senate.

Senator Risch serves as ranking member of the Foreign Relations Committee for the 117th Congress. The Committee on Foreign Relations is one of the oldest committees in the Senate, tracing its roots back to 1816. Committee members work on foreign policy legislation, provide oversight of the foreign policy agencies, confirm diplomatic nominations, and consider international treaties. The committee also oversees the operations and funding of foreign aid programs.

The Select Committee on Ethics is a six-person committee comprised of three Democrats and three Republicans. The committee investigates complaints and allegations of improper conduct and violations of the Senate Code of Official Conduct. The committee also suggests new rules and regulations to see that the Code of Conduct is upheld and, when appropriate, can recommend disciplinary action.
Sponsored Legislation
Offices
Washington, DC
U.S. Senator James E. Risch
United States Senate
Washington, DC 20510tel: 202-224-2752 
fax: 202-224-2573

My office is located in room SR-483 of the Russell Senate Office Building.
Boise
U.S. Senator James E. Risch
350 N. 9th St., Suite 302
Boise, Idaho 83702tel: 208-342-7985
fax: 208-343-2458
Coeur d'Alene
U.S. Senator James E. Risch
Harbor Plaza
610 Hubbard, Suite 213
Coeur d'Alene, Idaho 83814tel: 208-667-6130
fax: 208-765-1743
Idaho Falls
U.S. Senator James E. Risch
901 Pier View Drive, Suite 202A
Idaho Falls, Idaho 83402tel: 208-523-5541
fax: 208-523-9373
Lewiston
U.S. Senator James E. Risch
313 D Street, Suite 106
Lewiston, Idaho 83501tel: 208-743-0792 
fax: 208-746-7275
Pocatello
U.S. Senator James E. Risch
275 South 5th Avenue, Suite 290
Pocatello, Idaho 83201tel: 208-236-6817 
fax: 208-236-6820
Twin Falls
U.S. Senator James E. Risch
1411 Falls Avenue East, Suite 201
Twin Falls, Idaho 83301tel: 208-734-6780 
fax: 208-734-3905
Experience
Education
Contact
Email:
Web
Government Page, Campaign Site, Twitter, YouTube, Facebook, Wikipedia
Politics
Source: Government
Campaign Finance
Voting Record
Search
Wikipedia entry
Issues
Source: Government page
Education
A strong educational system is the foundation of a prosperous future for Idaho and our nation. I have long believed that the responsibility of educating our youth lies first with parents and also with teachers and local school officials chosen by parents.
Environment
Environment and Natural Resources
Idaho and the rest of America have a rich supply of natural resources. I support legislation that protects our environment for future generations, while maintaining private property rights and keeping in mind the needs of local communities and industry.
Health Care
Ensuring that all Americans have access to quality, affordable healthcare is among the greatest challenges our nation faces. Our current healthcare system is too expensive and inaccessible to far too many.
Immigration
I believe there is a three-pronged approach to immigration reform.   First and foremost, we need to secure our borders.  We cannot begin to solve this problem until we can control the borders.  Second, we need to reform our current immigration laws making a practical and workable program for legal immigration and workers.  Finally, there should be no amnesty.  No one should be rewarded for breaking the law.
Infrastructure
Transportation literally drives the American economy.  I support pro-growth policies that connect our cities and towns.  Mass transit is an important element of this infrastructure, but should not overshadow the surface transportation needs of our rural areas.
Safety
The primary constitutional obligation of the federal government is to protect and defend the people, land, and resources of the United States of America. As a United States Senator, I am committed to maintaining a well-trained, fully-equipped military.
Veterans
Our veterans sacrificed much to protect our nation and freedom.  We have a moral and legal obligation to provide them with everything they were promised by the federal government.  Any new legislation or modification of existing law should reflect that commitment and duty.
Agriculture
Idaho's and America's agriculture plays an important role in providing an abundant and affordable food supply to the U.S. and the rest of the world. As a rancher, I know firsthand the challenges of those who work the land.
Appropriations/Budget
I do not support continued deficit spending. The path we are currently traveling down is unsustainable, and it is time we refocus on the core functions of government. Congress must work together to advance pro-growth policies that balance the federal budget and unleash economic opportunity for Idahoans and Americans.
Business/Commerce
Our free market system has produced the greatest, most affluent culture the world has ever seen. Any legislation Congress enacts involving this system must be limited and carefully considered.
Constitution, Crime and Judiciary
The U.S. is a society of laws and without consistent interpretation of these laws by an impartial judiciary our freedoms will be diminished. I therefore support judicial nominees who believe the U.S. Constitution is the supreme law of the land, who have an established record of judicial restraint and who do not see the judicial branch as a lawmaking body.