Summary
Current Position: US Representative since 2019
Affiliation: Republican
Former Position: State Senator from 2005 – 2014
Other Positions:  
Ranking Member, Subcommittee on National Parks, Forests, and Public Lands
Quotes:
DOI's decision to move the Bureau of Land Management HQ back to D.C. is disappointing and poorly thought out. 99% of lands managed by BLM are located west of the Mississippi River and 97% of BLM employees already live in the western US. Sept. 24, 2021

Featured Video:
Rep. Fulcher Defends Pro-Life Protections in Hearing with HHS Secretary Becerra
News
Twitter
About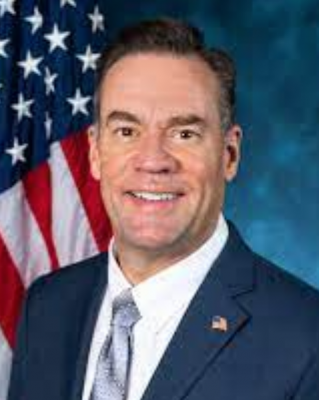 Source: Government page
Congressman Russ Fulcher, a fourth-generation Idahoan, grew up on a dairy farm in Meridian, Idaho. He graduated from Meridian High School, earned both Bachelor's and Master's degrees in business from Boise State University, and obtained additional certifications in electronic engineering.
Congressman Fulcher spent 24 years in the technology sector, including at Micron Technology and Preco Electronics. He sold Idaho products in 60 countries around the world and in every state in America.
During the ten years Rep. Fulcher served in the Idaho Senate, six years were spent as Majority Caucus Chair. His signature legislation, the grocery tax credit, has returned some $800 million to Idaho's hard-working families and constitutes the largest tax cut in Idaho's history. In addition, Congressman Fulcher served on the Senate State Affairs and Education Committees where he fought tirelessly to protect the rights of individual Idahoans, to limit government influence in our lives, to ease our tax burden, and to restore our God-given liberties.
Serving in the U.S. House of Representatives since January 2019, Congressman Fulcher currently serves as the Republican Deputy Leader of the Natural Resources Subcommittee on Water, Power, and Oceans, a member of the Natural Resources Subcommittee on Federal Lands, a member of the Education and Labor Subcommittee on Higher Education and Workforce Development, and a member of the Education and Labor Subcommittee on Health, Employment, Labor, and Pensions.
Committees   
The House Committee on Natural Resources
Ranking Member, Subcommittee on National Parks, Forests, and Public Lands
Member of the Subcommittee on Water, Oceans, and Wildlife
To learn more about the Natural Resources Committee and Subcommittees, click here.
The House Committee on Education and Labor
Ranking Member, Subcommittee on Civil Rights and Human Services
Member of the Subcommittee on Higher Education and Workforce Investment
To learn more about the Education and Labor Committee and Subcommittees, click here. 
Congressional Caucuses and Groups
Values Action Team (VAT)
2nd Amendment Caucus
Fertilizer Caucus
Working Forests Caucus
House Energy Action Team (HEAT)
Western Caucus
Pro-Life Caucus
House Freedom Caucus
Republican Study Committee
Sponsored Legislation
Offices
Washington, DC Office
1520 Longworth HOB
Washington, DC 20515
(202) 225-6611
Meridian Office
33 East Broadway Avenue, Suite 251
Meridian, ID 83642
Phone: (208) 888-3188
Fax: (208) 888-0894
Lewiston Office
313 D Street, Suite 107
Lewiston, ID 83501
Phone: (208) 743-1388
Coeur d'Alene Office
1250 West Ironwood Drive, Suite 200
Coeur d'Alene, ID 83814
Phone: (208) 667-0127
Fax: (208) 667-0310
Contact
Email:
Web
Government Page, Campaign Site, Twitter, YouTube, Facebook, Wikipedia
Politics
Source: Government
Campaign Finance
Voting Record
Search
Wikipedia entry
Russell Mark Fulcher[1] (born March 9, 1962) is an American businessman and politician serving as the U.S. representative for Idaho's 1st congressional district since 2019. A member of the Republican Party, he represented the 21st district in the Idaho Senate from 2005 to 2012 and the 22nd district from 2012 until 2014.
Fulcher ran for governor of Idaho in 2014 but narrowly lost the nomination to Butch Otter. He was elected to the U.S. House of Representatives in 2018, succeeding incumbent Raúl Labrador, who retired from Congress to run, unsuccessfully, for governor of Idaho.
Early life and education
A fourth-generation Idahoan, Fulcher was born in Boise, Idaho, but grew up on a dairy farm in Meridian, Idaho. He received both a bachelor's and master's degree in business administration from Boise State University in 1984 and 1988, respectively. He also completed a course on electronic engineering through Micron Technology.
Career
While a member of the Idaho legislature, Fulcher worked as a broker in the commercial real estate business. Before that, he was involved in Idaho's technology industry. Fulcher spent much of that time working in international business development with Micron Technology.
Idaho Senate
Idaho Senate District 21
In 2005, Governor Dirk Kempthorne appointed Fulcher to the Idaho State Senate, representing the 21st legislative district, which encompasses large parts of Boise, Meridian and Kuna, to replace Jack Noble, who resigned after a conflict of interest. Fulcher was first elected in 2006 and served through 2012.[2][3]
Idaho Senate District 22
Fulcher represented District 22 in the Idaho Senate from 2012 to 2014.[4] He served as Majority Caucus Leader from 2008 to 2012 and from 2013 to 2014.[5]
Committees
Fulcher served on the following committees:
Senate Education Committee (Member)
Senate State Affairs Committee (Vice-chairman)[6]
U.S. House of Representatives
Elections
2018
On June 15, 2017, Fulcher announced that he would seek the Republican nomination for Idaho's 1st congressional district in the 2018 election.[7][8]
He was endorsed by the incumbent representative, Raúl Labrador,[9] and Texas Senator Ted Cruz.[10]
Fulcher won the Idaho Republican Party primary with 43.1% of the vote, defeating David H. Leroy, Luke Malek, Christy Perry, Michael Snyder, Alex Gallegos, and Nick Henderson.[11] Fulcher won 18 of 19 counties in Idaho's 1st congressional district. He was one of two candidates to win his home county.[12]
He won the general election in November with 62.7% of the vote, defeating Cristina McNeil[11] (Democrat), W. Scott Howard[13] (Libertarian), and Marvin "Pro-Life" Richardson (Constitution).[14]
2020
Fulcher was reelected on November 3, 2020, with 67.8% of the vote, defeating Rudy Soto (Democrat) and Joe Evans (Libertarian).
Tenure
In December 2020, Fulcher was one of 126 Republican members of the House of Representatives to sign an amicus brief in support of Texas v. Pennsylvania, a lawsuit filed at the United States Supreme Court contesting the results of the 2020 presidential election, in which Joe Biden defeated[15] incumbent Donald Trump. The Supreme Court declined to hear the case on the basis that Texas lacked standing under Article III of the Constitution to challenge the results of an election held by another state.[16][17][18]
On January 12, 2021, Fulcher allegedly assaulted a female Capitol security officer after setting off a metal detector outside the House floor, triggering an investigation by the U.S. Capitol Police.[19]
Big Tech
In 2022, Fulcher was one of 39 Republicans to vote for the Merger Filing Fee Modernization Act of 2022, an antitrust package that would crack down on corporations for anti-competitive behavior.[20][21]
Committee assignments
Caucus memberships
Electoral history
Idaho 1st Congressional District Republican Primary, 2020[24]

Party
Candidate
Votes
%
Republican
Russ Fulcher (incumbent)
93,879
79.9
Republican
Nicholas Jones
23,657
20.1
Total votes
117,536
100.0
Other political campaigns
2014 gubernatorial race
On November 23, 2013, Fulcher announced his intention to run against incumbent governor Butch Otter in the 2014 Idaho gubernatorial election.[25] He was endorsed by Congressman Raúl Labrador.[26]
Fulcher lost to Otter in the May 2014 Republican primary, earning 43.6% of the vote.[27]
2016 presidential election
Fulcher was a Ted Cruz delegate at the 2016 Republican National Convention.[28] He supported Donald Trump in the general election.[29]
2018 gubernatorial race
Fulcher announced on August 24, 2016, that he was running for governor.[30][31]
On June 15, 2017, he announced that he was dropping out of the 2018 Idaho gubernatorial election and would instead run for Idaho's 1st congressional district in the 2018 cycle.[32]
Personal life
Fulcher was married to Kara Fulcher from 1987 to 2018. They have three adult children.[33]
References
External links
Finances
FULCHER, RUSSELL M (RUSS) has run in 7 races for public office, winning 6 of them. The candidate has raised a total of $1,771,370.
Source: Follow the Money
Voting Record
See: Vote Smart
Issues
Source: Government page
Government mandates, inadequate cost containment, high drug prices, and lack of price transparency are increasing premiums and deductibles, making insurance unaffordable. Ten years of the Affordable Care Act resulted in skyrocketing health insurance premiums and unsustainable spending.
The federal government controls 63% of Idaho's natural resources. This results in complications for outdoor groups accessing our lands and eliminates high-wage job opportunities in our rural communities. The federal government's inability to afford proper land management also contributes to extreme wildfires that endanger our health and property.
The Trump Administration's actions to pass historic tax cuts, reduce burdensome regulations, and prioritize domestic manufacturing and energy production unleashed astounding economic growth for our country.
Through my 24 years of work in the technology industry, I visited 47 countries and found a similarity between these vastly diverse places– countries protect their borders. Protecting the sovereignty of our nation is one of the few constitutionally-granted responsibilities of Congress, and the security of our border had been neglected for far too long.